An Outstanding Celebration of Music at Ashmole Academy in Proms Week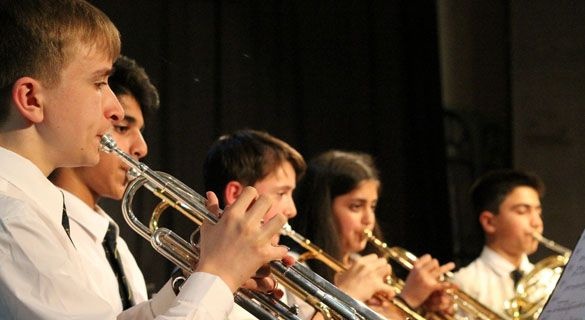 June 21st 2016 saw the beginning of the Music Department's annual Proms Week. We held three amazing concerts, all with a wide variety of performances.
On Tuesday we held our 'Evening of Music' Concert where many of our soloists and small ensembles had the opportunity to share their music with friends and family. We had performances from all year groups – Year 7 right through to Year 13. The concert included a beautiful version of 'Half a World Away' sung by Maisie Waller, one of our Year 11 GCSE music students.
On Wednesday we had an extended Lunchtime Concert which was well attended by staff and students. We had a wide variety of performances which were both inspiring and entertaining.
The week culminated in our 'Last Night of the Proms' concert which showcased our larger ensembles along with virtuoso solo performances from Kourosh Ahmadi, Alice Chernaik and Hannah Golding, three of our incredibly talented Year 11 students.
The evening was a tremendous success. Both audience and performers had a really exciting evening, filled with musical energy and passion.
We are very proud of all our performers - they attend rehearsals every week, practise tirelessly, and take their performances very seriously and professionally, whilst still holding onto the element of fun.